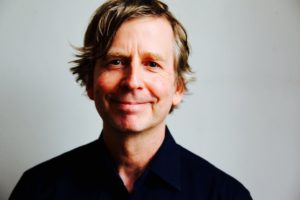 I live in London with my wife and partner of 22 years Anna.
I own a number of companies (in the sphere of Record, Music Publishing and Film companies) under the banner of "Warp."
I have been doing this for over 25 years and it has grown gradually, from a small bedroom operation, to a group of companies that currently employs 60 people in offices around the globe. It is world-renowned in its specialist area.
In 2001 my then business partner Rob Mitchell was diagnosed with cancer and died a few months later.
This experience was a huge "Wake up call" for me, and set me on a ten year path of self-discovery and transformation that took me through many twists and turns.
One of these "turns" was coming across the work of Ken Wilber and developmental/evolutionary theory in general.
I really wanted to find some way, of practically bringing this incredible work into the World and using it to make a real difference. The way I decided to do it was by taking a 2-year intensive training as an Integral Coach with Integral Coaching Canada.
I completed the Integral training in 2010 and since then have been following my passion for coaching more and more whilst delegating every thing but my key day to day activities in the other companies.
I regularly work with clients from any part of the World (via Zoom) from any background, and on any topic.
I am however really passionate about working with developing leaders, in businesses and non profit organisations.